The UN climate summit has ended with delegates taking very different views on how much it has achieved.
Western delegates said progress here had been encouraging, but environment groups said rich countries had not shown enough ambition.
Developing nations were angry that more money was not put forward to protect against climate impacts.
The meeting is the halfway point on a two-year process aimed at reaching a deal in Copenhagen by the end of 2009.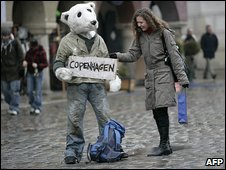 After Poznan, eyes are turning to Copenhagen
As envisaged at last year's conference in Bali, that agreement is supposed to have two major elements - an expanded Kyoto Protocol-style deal committing industrialised countries to deeper emission cuts in the mid-term, perhaps by 2020, and a longer-term agreement encompassing all countries.